About
Contact the artist at: jeromeprieurartist@yahoo.ca
View the Latest CV (.pdf)
Biography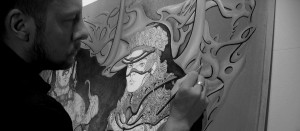 Born in 1969 and brought up in a family of artists, Prieur began to create at an early age. His style has evolved into a distinctive combination of painted acrylic canvases embellished through the application of detailed ink work. His stylistic signature has made his art unique and rarely seen.
The Lilliputian details found in Prieur's pieces were the original subjects of his early work. As a child, he used to draw small multiple detailed filigrees at the bottom right hand corners of white pages. When asked by his parents what these scribbles were, he said that they meant nothing at all… It was natural for his family to neither question, nor to dissuade him. Being artists themselves, they supported his ventures and were effective in instilling a respect and knowledge of the myriad ways in which artistic expression may be achieved. Jérôme's family continues to be his number one supporters, consistently and firmly celebrating his artistic visions and goals.
In 1989, Prieur moved to Calgary, Alberta, a city well known for its established western-themed art. This is where he first discovered and was inspired by pointillism, cross hatching and other ink techniques found in many western arts. Combining these new techniques with his favoured influences of modern art, distinct ink technique, and medium of acrylic on canvas his characteristic signature style began to evolve.
In 2005, Prieur illustrated his first book, in collaboration with San Diego writer Dorota Skrzypek. This project – entitled "The Dentist and the Toothfairy" has been released in limited edition hardcover (signed and numbered) and open edition soft cover. This book received an honorable mention by Independent Publishing Online at the LA Times Book Fair, as outstanding book of the year in 2006.
In addition to his well known paintings, Prieur also collaborates with long time friend and fellow artist Marie-Josée Roy. He adds engraving work to her painted metal plates (aluminum, copper and brass). Prieur also designs sculptural light fixtures and continues to produce new work, further exploring and expanding upon his artistic vision.
Currently, Jérôme Prieur lives and works in Montréal and Trois-Rivières, Québec. His works are in private and public collections in Canada, U.S.A, Australia and Europe.
Jérôme Prieur and Marie-Josée Roy
Marie-Josée Roy and Jérôme Prieur met in 1988, when they were both 18 years old, and were attending college together in Trois-Rivières, Québec, Canada. For more than thirty years they have been friends, and have witnessed and supported each other's careers in the visual arts.
Their involvement with each other has resulted in numerous group shows over the years and countless hours spent discussing conceptualization, inspirations, techniques, and how each one internalizes and expresses their passion for the arts. Their art has evolved as they have, and their work stands as a parallel to the artists, two distinct personalities, each with their own unique artistic vision, that complements and uplifts the other.
In 2009 Marie-Josée was invited to present a solo show at the Montréal headquarters of the Cirque du Soleil, and asked Jérôme if he would collaborate on one piece, and the results surpassed all expectations.
The resulting piece, a substantial image (60" x 48") of a young girl with butterfly wings painted on aluminum and engraved with endless details, quickly established itself as a perfect fusion of these two talents and became the showcase piece of the show.
Following the success of this one piece, the artists have been committed to shows and artfairs in LA, New York, Chicago, Miami, Indianapolis, Toronto, and Montréal.
The pieces signed Roy-Prieur, are pieces in which Marie-Josée has conceptualized and executed the piece, and Jérôme then embellishes and enhances. For Prieur-Roy, Jérôme isolates the imagery to be used and Marie-Josée uses her style and technique to create a piece that is uniquely hers, and Jérôme finishes the piece by touching engraver to metal.
Marie-Josée expresses that which is internal with themes of the spiritual and intuitive. Her work is gestural and free. Jérôme's work is the visualization of a perfectionist; it is calculated, mechanical, repetitive, excessive and claustrophobic. The marriage of these two styles results in the internal becoming external and the excessive being gently contained.
Jérôme Prieur and Amer Rust
In 2020, a new collaboration (Amer-Prieur) of the artists Amer Rust and Jérôme Prieur is born. Created with the movement and fluidity of the rust and the finesse of the engraving, their aesthetic is what is most present at first sight. The message beyond the technique of each work is free of interpretation. However, their subjects, result of their common vision, are based on their view of our society, beliefs, symbolisms and the observation of the dark side of the human
race.