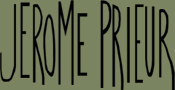 - Artiste

Born in 1969 and brought up in a family of artists, Prieur began to create at an early age. His style has evolved into a distinctive combination of painted acrylic canvases embellished through the application of detailed ink work. His stylistic signature has made his art unique and rarely seen.

The Lilliputian details found in Prieur's pieces were the original subjects of his early work. As a child, he used to draw small multiple detailed filigrees at the bottom right hand corners of white pages. When asked by his parents what these scribbles were, he said that they meant nothing at all… It was natural for his family to neither question, nor to dissuade him. Being artists themselves, they supported his ventures and were effective in instilling a respect and knowledge of the myriad ways in which artistic expression may be achieved. Jerome's family continues to be his number one supporters, consistently and firmly celebrating his artistic visions and goals.

His repertoire of subjects began to include dinosaurs, fish, spaceships, and skeletons. These composed a large part of his childhood portfolio. Then the 80's happened and Prieur was influenced by pop culture, music, and underground art. He began to recreate Heavy Metal cover art for friends utilizing recycled materials (i.e. pencil and masonite). Disenchanted with school, he found it profitable to sell these creations to friends, thus funding his burgeoning identity as an arcade slag. One of his early memories of recreating detailed works was to replicate several Iron Maiden record covers; it was no surprise that his style evolved within this exposure to such intricate and detailed pieces of non-mainstream art.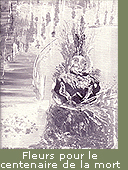 In 1987, "Fleurs pour le centenaire de la mort" was Prieur's first painting. This painting was created with wood sticks, toothpicks and house paint on an old t-shirt. In 1989, Prieur moved to Calgary, Alberta, a city well known for its established western themed art. This is where he first discovered and was inspired by pointillism, cross hatching and other ink techniques found in many western arts. Combining these new techniques with his favored influences of modern art, distinct ink technique, and medium of acrylic on canvas his characteristic signature style began to evolve.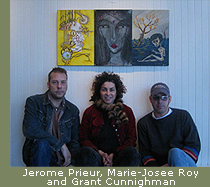 In 2000 Prieur returned to Montreal, where he collaborated with long term friend and fellow artiste Marie-Josee Roy. The duo had numerous showings throughout Montreal in galleries, both solo and group, as well as partaking in Montreal's thriving underground art scene. Further additions to such group projects included Montreal artist Grant Cunningham. Shortly following these successes Prieur was inspired to pursue his artistic career fulltime.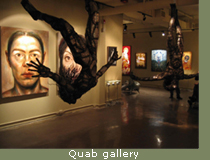 In 2004 Prieur became a founding member of Quab Gallery, located in Calgary Alberta; From November 2004 – July 2007, QUAB's vision was to promote socially relevant contemporary Canadian art. Primarily QUAB's mission was to be an exchange between the art scenes in Quebec and Alberta. The mission of this gallery was to present bold, sensitive, sensual, violent, mystic, sexual, dark humour, political, daring and edgy artists. All of QUAB's represented artists reflected this philosophy through their artistic vision and resultant works. Prieur's commitment to the promotion of QUAB's represented artists was no less powerful then his belief in his own works. All of QUAB's artists represented a unique voice, medium, style, and artistic stance. As both individuals and as a collective they experienced a freedom of expression, and definition that did not go unnoticed.
In 2005, Prieur illustrated his first book, in collaboration with San Diego writer Dorota Skrzypek. Included is a soundtrack by Hugh Herrera resulting in an energizing project between three talented young artists. This project – entitled "The Dentist and the Toothfairy" has been released in limited edition hardcover (signed and numbered) and open edition soft cover. Keep watching… as the team has committed to future extensions of the project.

In addition to future collaborations, artistic promotions, and his many projects, Prieur continues to produce new work, further exploring and expanding upon his artistic vision. Currently, Jerome Prieur lives and works in Montreal, Quebec. His works are in private and public collections in Canada, U.S.A., and Europe.

About his art:

Prieur examines the profane elements of day-to-day life that define us. A central focus on his subjects' bodies allows him to explore careers, hobbies, relationships and social roles that are re-invented and reinterpreted through the complexity of his work and his unique stylistic approach. The viewer is challenged to fit this new perception of the body into their pre-existing schemas of the self, others, and society as a whole. His themes revolve around people, history and life in general. His carefully researched subjects are about people's careers and their professions as they relate to religion, war and taboo subjects. Such research sometimes takes years before his work is applied to canvas. Prieur's themes are explored on canvas where they become an impossibly detailed and intricate new vision. His work is a new approach to an ordinary subject that has been transformed into an over-calculated piece, which contains humoristic inventions mixed with disturbing elements that become an endless journey for the eye.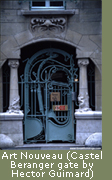 Prieur's fascination for Art Nouveau is easily recognized in his artistic approach. He is quoted as saying "It is hard to imagine such creations are the results of mere humans, it is complex and without laws. Things flow… but not within conventional confines."

When it comes to the incorporation of surrealism into his art, one merely has to view his pieces individually. They represent the ability to be daring when combining unrelated imagery in extreme juxtapositions. He takes things out of context, while maintaining the illusion that they are indeed at home within their alien environment.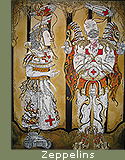 One of the many questions often asked to Prieur is where do the ideas for his pieces come from? It is never an easy one to answer. Each piece is intricately thought out prior to execution, however, when the painting is in progress, many thematic details get added and fused resulting in the story as a whole. For example the painting "Zeppelins" started out as homage to the medics of the First World War, but became a painting honoring all medics of all wars because of the incorporated symbolism that evolved during the painting's realization. Each painting begins with a "base" that anchors the piece, but due to the time required to complete each piece, his research is rethought and the individual elements reinvented. As a result his pieces become increasingly complex, while still honoring the original inspiration and statement of the piece.